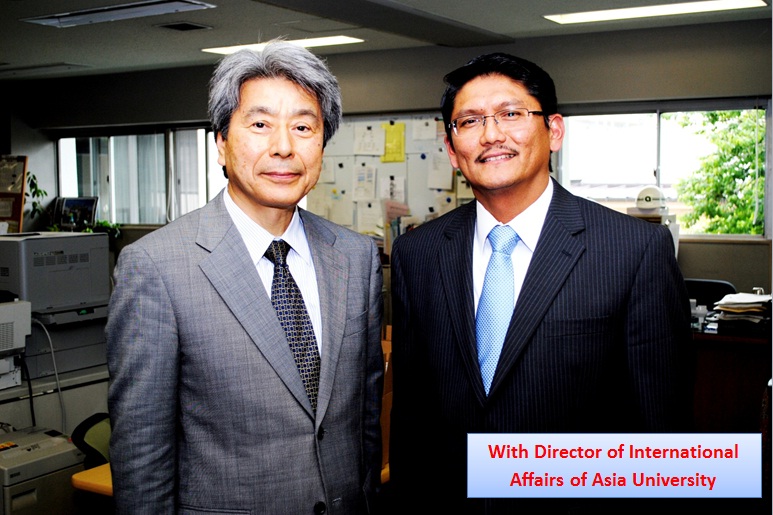 Extending Collaboration by Visiting Asia University, Japan
To extent collaboration that have already existed between Al Azhar Indonesia University (UAI) and Asia University, Tokyo, Dr. Hidayat Y.S, Director of International Affairs of UAI, visited Asia University at Musashishakai, Tokyo, Japan, May 20th 2013.
Dr. Hidayat was warmly welcome by Prof. Hidemasa Ozaki – Executive Director of International Affairs Division, Mrs. Ayako Masuhara, Ph.D. – Lecturer, Mr. Masaji Shiga – Director International Affairs Division, Mr. Shuji Nishikawa – Vice Director International Affairs Division, and Mr. Tomohiro Yabuki – Staff of International Center, International Affairs Division of Asia University.
Despite the constant drizzles and sometimes quite intense shower, Dr. Masuhara and Mr. Yabuki sticked to the plan of taking Dr. Hidayat on the tour around the beautiful campus of Asia University. Campus tour was followed by discussion on the topics of collaboration between the two universities.
Last year Mr. Isono Miku and Mr. Yamada Nagisa, two atudents from Asia University came and studied at the Faculty of Literature, UAI for one month. It seems that both students experienced wonderful time at UAI. This student exchange program would be continued, more likely there will be another two students for this year.
This meeting was closed with a very delicious Japanese lunch, prepared by the spouse of the vice director of Internastional Affairs, Mrs. Nishikawa. For more detailed information on the beautiful Asia University, please visit their website http://www.asia-u.ac.jp.