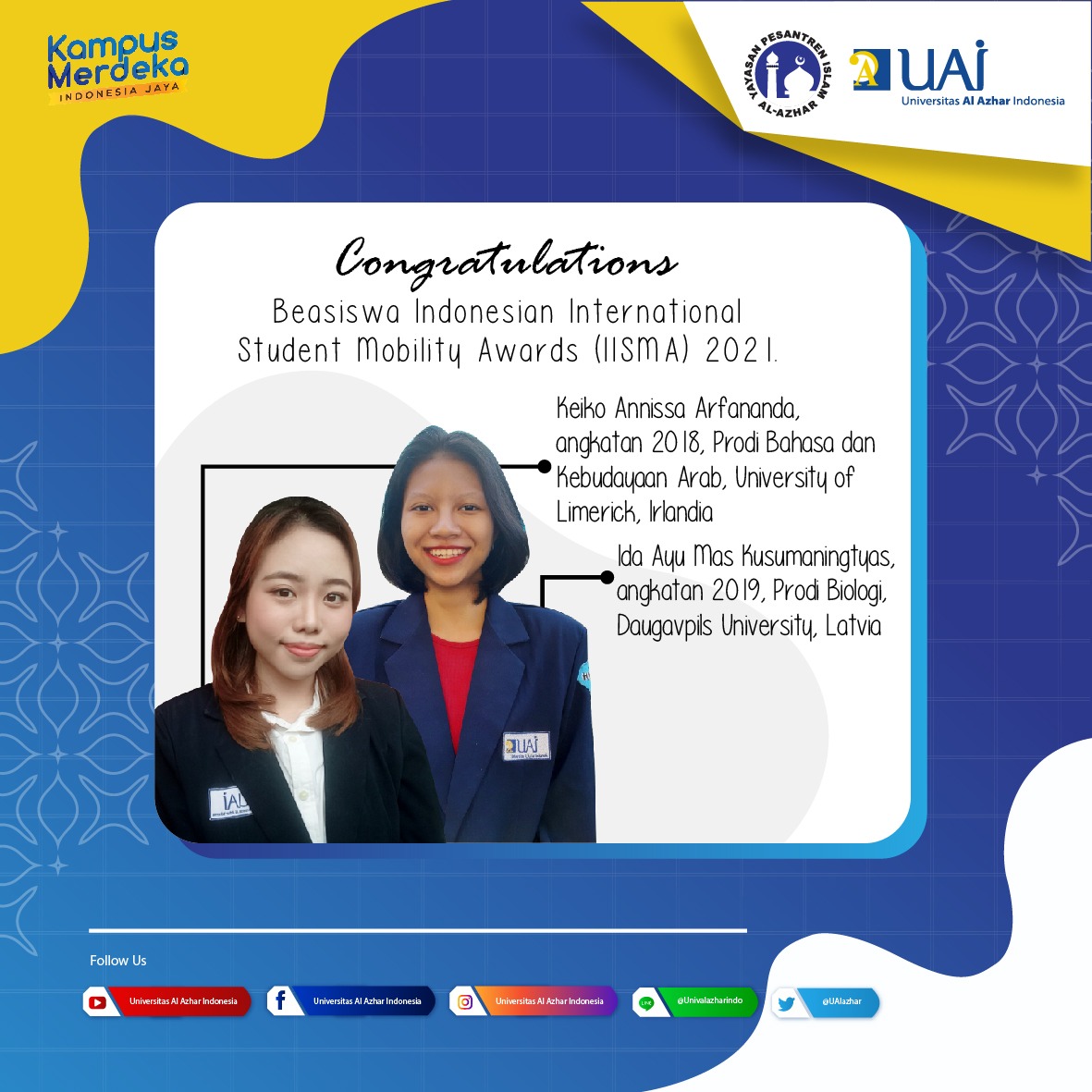 From 2000 Indonesia Applicants, 2 UAI Students Achieve IISMA 2021 Scholarships to Study Abroad in Prominent Universities
Two University Al-Azhar University of Indonesia (UAI) students etched sublime accomplishment, as they passed the selection for Indonesian International Student Mobility Awards (IISMA) 2021 awardees. With both students achievement, they are part of the best university students in Indonesia and they will weave their educations for one semester abroad.
IISMA is an international student mobility program that is formulated by Directorate General of Higher Education (Ditjen Dikti) and Ministry of Education, Culture, Research and Technology (Kemendikbud-ristek) which aims to open up opportunities for students from universities in Indonesia. Thus, students have the opportunities to knit their education in reputable universities anywhere in the world for one semester.
International Office (KUI) UAI under the Directorate of Cooperation, is an unit that observe and responsible for the departure process of UAI IISMA students. In preparing for both students departure process, KUI comprehend the fact that these students achievement is an outstanding feat, wherein both of this students compete with 2000 applicants from 144 universities in Indonesia and become part of 1000 applicants that are selected for IISMA program
The IISMA selection program was very competitive, wherein applicant were required to have a good academic achievement and record, proof of sufficient foreign language competency such as TOEFL/IELTS test.
Other supporting documents were also part of the requirements and there was test interview for the selection process. With the complex and competitive IISMA selection program, it is understood that the IISMA scholarship program is a prestigious scholarship.
UAI students who were selected for the IISMA program are Keiko Annissa Arfananda from Arabic Language and Culture Study Program dan Ida Ayu Mas Kusumaningtyas from Biology Study Program. Keiko was accepted inUniversity of Limerick, Ireland, whereas Amelia was accepted in Daugavpils University, Latvia.
The Scholarship covered by IISMA were registration and tuition fees, visa issuance, return and travel costs from the country of origin to the destination country, health insurance, monthly living expenses, PCR (Polymerase Chain Reaction) test fees before leaving for the destination country or before return to their home country.
In regard to the Keiko and Amelia achievement to partake in IISMA 2021 program, they are encouraged to become UAI ambassador and promoting UAI to receiving university. Both of these students are expected to build their networking with receiving university and the students there.
Moreover, KUI hoped with Keiko and Amelia accomplishment can motivate us to improve ourselves and motivate UAI students to carved their own achievement in national or international level.
-Bagus Ramadhan-