From Taipei with Love : University Al Azhar of Indonesia and National Taipei University Forged Linkages Through Virtual MoU Signing and Joint Virtual Lecture
In the midst of Covid-19 pandemic, University Al Azhar of Indonesia (UAI) and National Taipei University (NTPU) organized Memorandum of Understanding (MOU) signing ceremony on January 14, 2021 and joint virtual lecture titled "Innovation and IT Role in Tackling Covid-19 Pandemic". This collaboration executed in order to establish an official collaboration and relationship between each other.
Despite the Covid-19 circumstances, UAI and NTPU are adamant to hold the MoU signing, marked each parties perseverance to strengthen their cooperation. The MoU was signed by each university rector or president, Prof . Dr. Ir. Asep Saefuddin, M.Sc. as the Rector of UAI and Dr. Chen-Jai Lee as the President of NTPU.
Meanwhile, Vice Rectors/President, Deans, related Directors and students of respective universities wholly attended the MoU and joint virtual lecture. The event was also attended by Yasmi Adriansyah, Ph.D., Executive Director of Center for Policy, Business, and International Studies as the moderator of the virtual lecture
The MoU signing ceremony started with opening speechs from respective university Rector or President, then MoU signing took place as both leaders signed the MoU. The MoU signing officialy concluded with Prof. Asep and Dr. Lee held the MoU and photographed, afterwards the virtual lecture commenced with Yasmi Adriansyah, Ph.D. guided the rest of the event.
As the joint virtual lecture began, the keynote speakers of the lecture, Ir. Hidayat Yorianta Sasaerila, M.Sc., Ph.D., Dean of Faculty of Science and Technology of UAI and Prof. Dr. Wen-I Lin, Dean of OIA of NTPU elucidated their views and perception on the role of IT and innovation in tackling Covid-19 pandemic.
Both of them conveyed on the importance of to be discipline and adhering health protocol in the time of pandemic even though technology and innovation contributed greatly in the fight against Covid-19. They also mentioned the crucial role of education institution to produced innovation and measures that can solved Covid-19 or prevented Covid-19 spread, such as UAI contribution in creating powered air-purifying respirator (PAPR) and NTPU prevention steps to cease the spread of Covid-19 such as improving indoor ventilation in NTPU, care support e.g. telephone visit and home visit and etc.
The joint virtual lecture come to an end after Q&A session and group photo was taken. This MoU signing ceremony and joint virtual lecture will certainly be a start of a productive and lasting relationship between UAI and NTPU.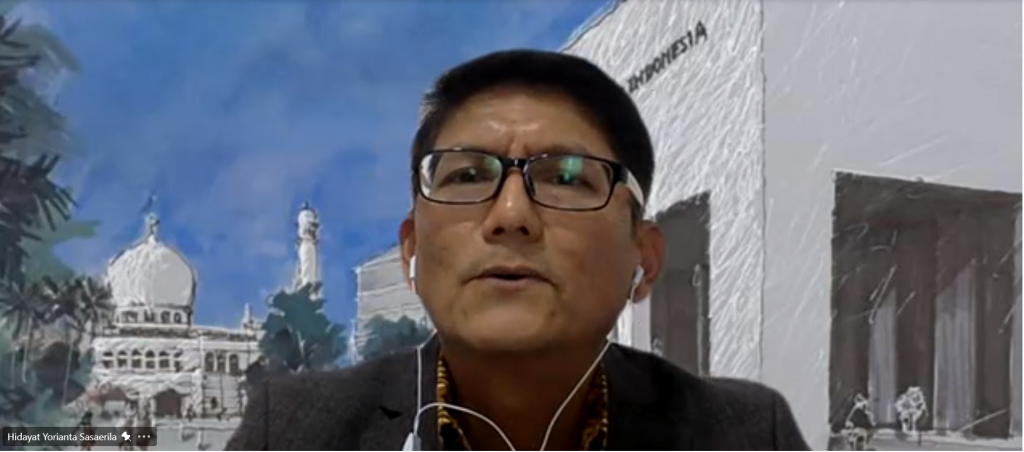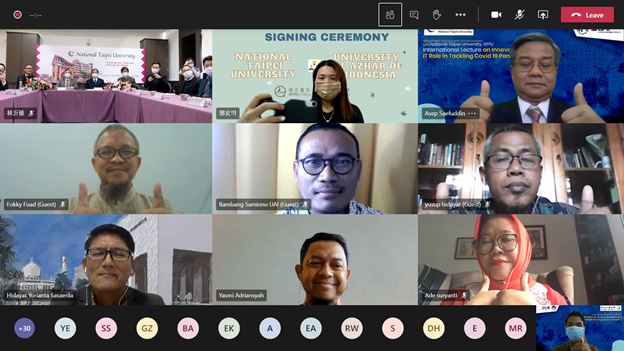 -Bagus Ramadhan-