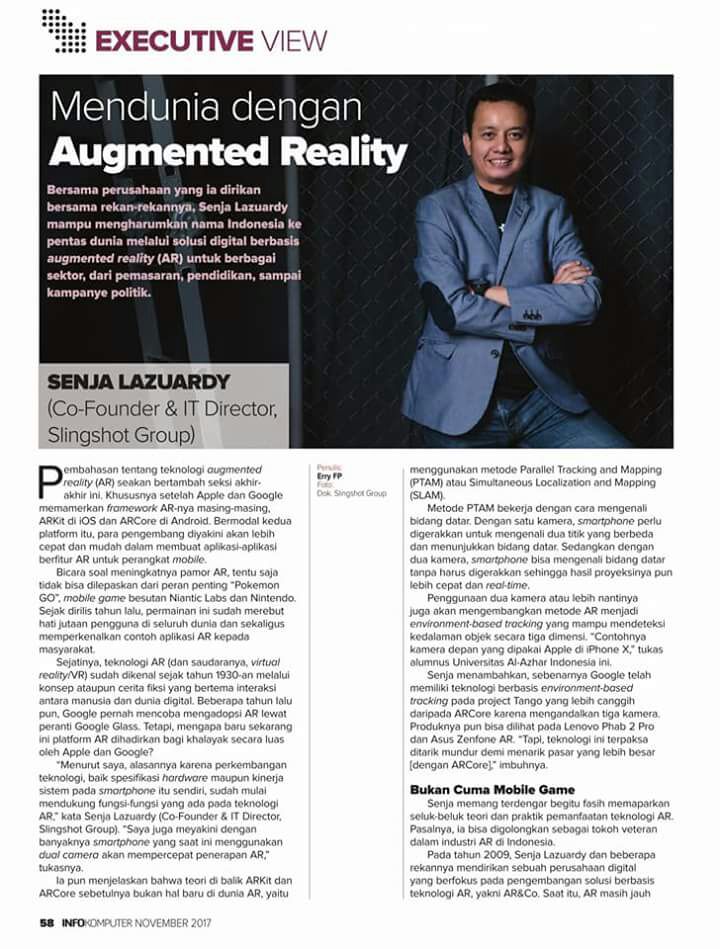 Globalize with Augmented Reality
Nowadays, platforms like Apple and Google have been releasing their best Augmented Reality (AR) frameworks, ARKit in iOS and ARCore in Android. With those two, developers seem to believe that they can make any applications easier and faster.
AR and VR (virtual Reality) have been noticed since the 1930s where there were many concepts or fictions with so many human x digital interaction themes. And just a few years ago, Google adopted the AR through Google Glass. Though, why just know that Apple and Google can finally socialize it for the public to experience?
"I think it is because of the technology development, either from the hardware specification or the system's performance of the smartphone, that they already support the AR specifications," Senja Lazuardy (Co-Founder & IT Director, Slingshot Group) said. "I also believe that a lot of smartphones with the dual camera will quicken the application of AR." He continues.
He also explained that the theory behind ARKit and ARCore are not new in the AR world. There has been the use of Parallel Tracking and Mapping (PTAM) method or Simultaneous Localization and Mapping (SLAM).
PTAM method works with the flat surface. With one camera, the smartphone needs to be moved around to recognize two points that shows the flat surface. But with two cameras, the smartphone can recognize that flat surface without moving it around so the result of the projection is faster and real-time.
The use of two cameras or more will develop the AR methods to be environment-based tracking that can detect the depth of an object with the three dimension. "You can take the example of the front camera of Apple's iPhone X." The Alumni of Universitas Al-Azhar Indonesia claimed once again.
Senja added, that actually Google has the technology with environment-based tracking in the Tango Project which is more sophisticated than ARCore because it uses three cameras. The product can be seen in Lenovo Phab 2 Pro and Asus Zenfone AR. "But this technology has to be taken out due to the marketing focus [for ARCore]," He informed.
Not just for Mobile Games
In 2009, Senja Lazuardy and some of his partners built a digital company that focuses on solutions development for AR, namely AR&Co. That time, AR was still far from the public's reach. He told, "We needed some big voices and efforts to explain the concept for AR. Time passes by, now this technology is easier to receive."  
In eight years, AR&Co went through a fast growth that they are able to make two business units which are DAV for digital advertising and Mindstores that provides virtual stores. Their clients are not only from the local but also international like Vietnam, Spain, Nigeria, and The US. And there are also big names of costumers such as Caltex, Dutch Lady, Disney, Telkon Indonesia, Nestle Dancow, Alfamart, and WWF Indonesia.
Slingshot Group has been earning a lot for Indonesia in the AR World Expo year of 2015 and 2016. The Sillicon Valley based event is like the 'Oscar' of this AR industry. In 2015, they won because of the application they made for Nigeria's election campaign of Muhammadu Buhari. The phone users directed their platform to the logo of the political party then it would connect to the profile of the party and also other contents related to them. That received so many attentions from the public, followed by the winning of Buhari.
Another case study by Slingshot Group was that they developed the AR application for Saldana, an encyclopedia publisher for children in Spain. There are four applications for each section; Dinosaurs, Human Body, Animals, and Civil. This drawn an interactive style that presents a whole new experience for the children.
"These days, a lot of people think that AR is mostly needed in the game and marketing sections, whilst actually they can be used fo education, engineering, and other stuffs," Senja said. "But in Indonesia it is still hard to apply."
Technical and Non-Technical Challenges
Every day grappling with research matters, Senja admitted than he was no longer unfamiliar with AR tools like Microsoft HoloLens and Google Glass. He also understand the technical and non-technical challenges faced in the development of AR-based digital solution.
From a technical point of view, the main challenges are the limitations of the field of view (FoV) or the extent view between real world and virtual world. "The main purpose of this research is definitely we can interact as real as possible with the virtual object," he said. "But, now the device still limited to glasses," he continued.
AR Glasses on the market today still have advantages and disadvantages of each. For example the AR Glasses with a smartphone screen. The look is broader, but less visible. Meanwhile the AR Glasses with optical lenses (transparent) look more realistic but limited display.
"The still awaited is Magic Leap with virtual retina display technology. So, the virtual object is projected directly to our retina. Automitaclly, the FoV are unlimited," said Senja.
Meanwhile, the non-technical challenges is the price of AR gears which is still expensive, so it is difficult for general people to have it. For example, HoloLens from Google Class costs more than US$3.000 or Rp40 million. In addition, not many AR applications are quite interesting and able to be added value for user.
Taken from InfoKomputer Magazine, November 2017 Edition, pg.58-59
Translated by: Dhea Fadhilah & Dzulfiqar Prasetyo