From Kelantan With Love : UAI and UiTM Cawangan Kelantan Signed MoU and Held International Webinar on "The Role of University in Empowering Entrepreneurial Spirit during Covid-19 Pandemic"
University Al Azhar of Indonesia (UAI) and Universiti Teknologi MARA Cawangan Kelantan (UiTMCK) have organized a Memorandum of Understanding (MOU) signing ceremony on April 15, 2021. The Covid-19 Pandemic and distance between UAI and UiTMCK did not stop both parties to establish an official relationship and to explore cooperation prospect between each party.
The MoU was signed by Prof. Dr. Ir. Asep Saefuddin, M.Sc. as the Rector of UAI and Associate Prof. Dr. H. Zulkifli Mohamed, P.S.K as the Rector of UiTMCK. After the MoU Signing, the event is continued with the webinar entitled "The Role of University in Empowering Students Entrepreneurial Spirit During Covid-19 Pandemic" which rectors from both parties be the keynote speakers as well. This webinar was attended by UAI and UiTM Vice Rectors, Deans, Head of Study Programs, Directors, and students.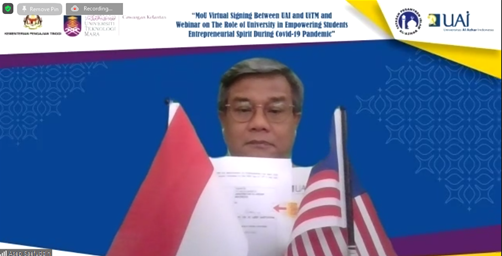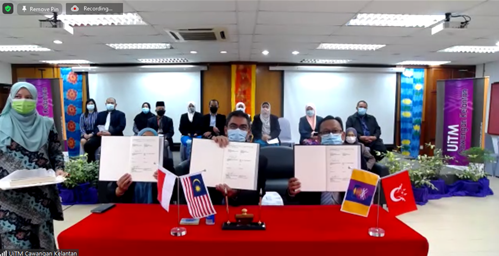 In Prof. Asep Saefuddin speech, he realized that UAI tagline/jargon which is Enterprising University was quite similar to UiTM's which is Championing Data Preneurship Empowering Community so that it makes both UAI and UiTM have a vision and mission that are in line.
Prof. Asep has elaborated as well in his speech that this webinar is one of the implementations from the MoU that was just signed. The collaboration should be enlarged in the near future like exchange program, joint research, as well as Kampus Merdeka Program. He added that Industrial 4.0. is now here but at the same time we have a problem called V.U.CA (Volatility, Uncertainty, Complexity, Ambiguity). A year ago the Industrial 4.0 and V.U.C.A is strengthen by Covid-19 Pandemic and we do not have a choice but accelerate.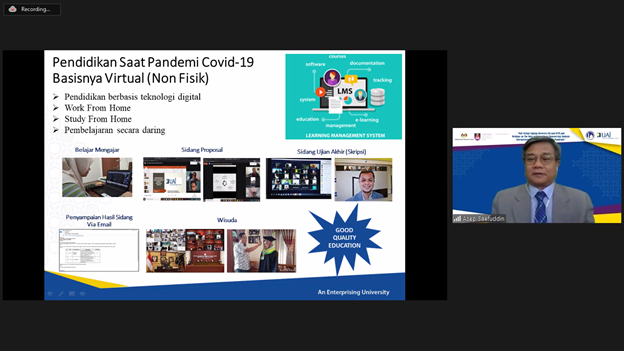 With this pandemic, we are required to change the model or the way we learn which is more or less helped by the use of the internet that is very important in this day, where its function has been used in our daily lives. With the Covid-19 Pandemic still ongoing, the learning program has changed which has resulted in drawbacks and advantages. The advantage is that we can finally advance our skills in digital technology for teaching and learning activities and working as well. Not only from working and teaching and learning fields, but technological advances have also changed our behavior towards the economy. For example, everything nowadays can be done cashless and even cardless.
Prof. Zulkifli concurred with Prof. Asep speech, as he conveyed that there are several challenges associated with digital technology that we will have to face in the next few years, including the rising of digital technology (internet connectivity), new media of communication, new marketing tools, new ways of working, and new methods of teaching and learning such as online T&L, ODL, MOOC, etc.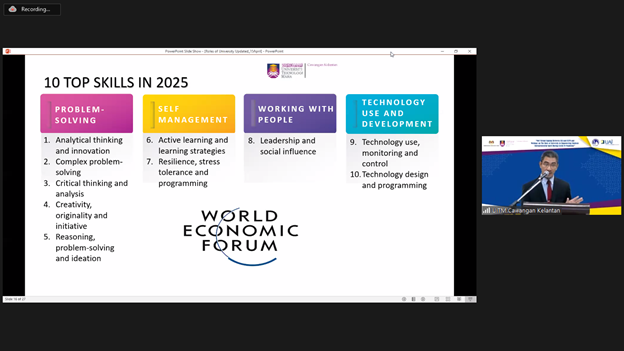 In addition, Prof. Zulkifli also stated that students need to master their skills to prepare their future for which the university can prepare the knowledge side. This includes skills such as problem solving, self-management, working with people, and technology use and development. By the end of his speech, Prof. Zulkifli also added that there are several top qualities of successful entrepreneurs which are discipline, confident, open minded, self-starter, competitive, creativity, determination, strong people skills, strong work ethic and last but not least is passion.
The webinar was officially closed with a group photo led by the Host from UAI. There is hope and enthusiasm that this cooperation can bring benefits to both universities and countries.