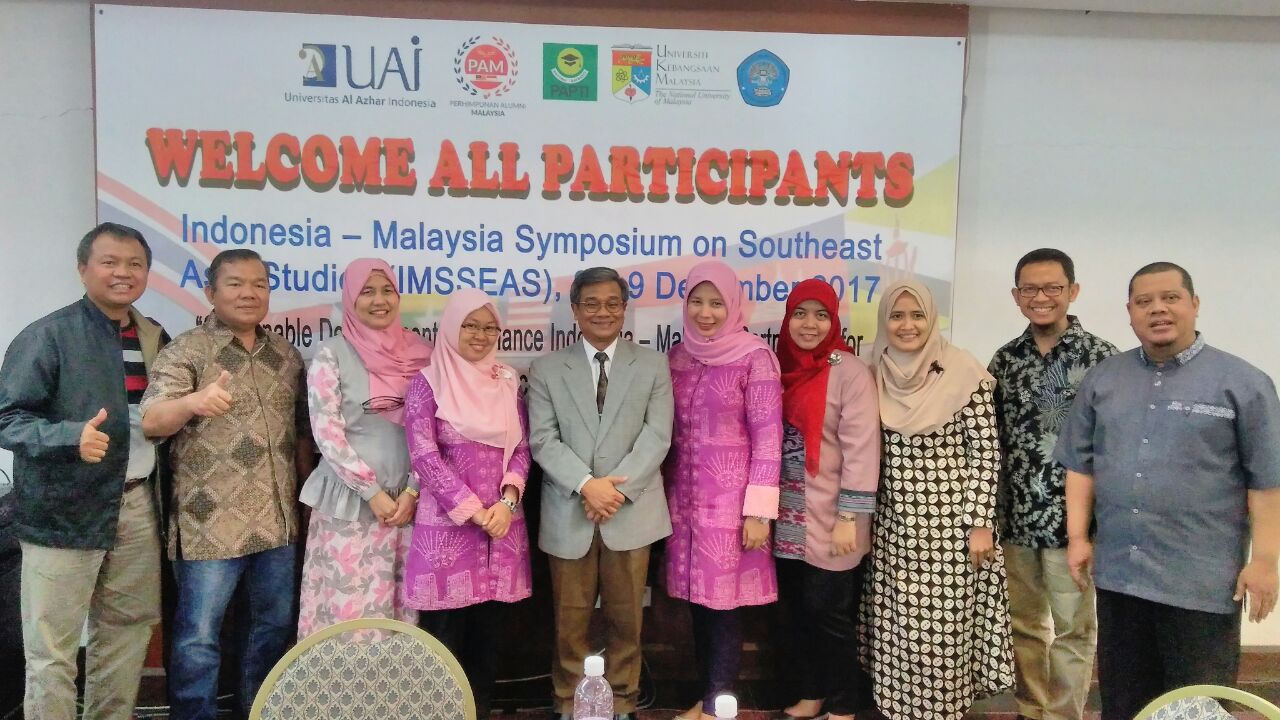 UAI participated in the Indonesia-Malaysia Symposium on Southeast Asian Studies, 8-9 December 2017 in UKM, Malaysia
The University of Al Azhar Indonesia (UAI) became one of Indonesia's representatives at the ongoing Indonesia-Malaysia Symposium on Southeast Asia Studies (IMSSEAS) on December 8-9, 2017 at Universiti Kebangsaan Malaysia (UKM), Kuala Lumpur, Malaysia. The event was organized by the Perhimpunan Alumni Malaysia (PAM/Malaysian Alumni Association) and the Persatuan Alumni Perguruan Tinggi Indonesia (PAPTI/Alumni Association of Indonesian Universities) and supported by UAI and other higher education institutions.
In the opening session, UAI's Rector Prof. Dr. Ir Asep Saefuddin, M.Sc delivered a keynote speech entitled "Higher Education Facing Disruption Phenomena". One of the important messages carried was the world of education must continue to innovate in order to survive in the present. This is because there are so many disruptions coming ahead.
Another key speaker was Dr. Chandra Setiawan, PhD, commissioner of the Komisi Pengawas Persaingan Usaha (KPPU/Competition Supervisory Commission). Dr. Setiawan delivered the material entitled "Tender Conspiracy and Unfair Business Competition in Procurement of Government Goods / Services".
The multi-disciplinary symposium was interesting. Participants presented their analysis on contemporary global issues, ranging from the issue of fraud prevention in e-commerce in ASEAN, the role of Indonesia in the case of the Laut Tiongkok Selatan (LTS/South China Sea), to the discussion of the procurement law for corruption.
UAI researchers were active in this international symposium. Our researches were from the Faculty of Psychology and Education (FPP), Faculty of Science and Technology (FST), and Faculty of Social and Political Sciences (FISIP). Dr. Nita Noriko, for instance, presented a paper entitled "Cannalina Flour to Support Sustainable Development", Dr. Suwardi delivered a paper entitled "Development in Early Childhood Learning Model"; and Yasmi Adriansyah presented a paper entitled "Seeing the Dragon with Cautions: Comparing the Views of Indonesians and Malaysians Toward the China's Belt and Road Initiative".
The series of events went smoothly. In order to maintain sustainability, UAI Rector offers the next symposium to be held in UAI with a larger cooperation scale, i.e. ASEAN + and will be opened for the other international participants. ***
Written by:
Yasmi Adriansyah, M.Si
Special Editor:
Dzulfiqar B. Prasetyo, S.IP
Translator to English:
Dhea Fadhilah, S.S
See the article in Bahasa here.