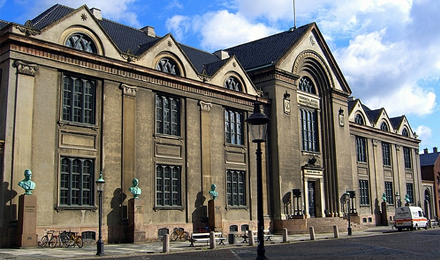 a Note From Copenhagen "Entrepreneurship and Innovation in Denmark Higher Education"
This is a short note on Denmark efforts to incorporate innovation and entrepreneurship in its higher education, more or less as a keepsake of my trip, presented to Al Azhar Indonesia University (UAI).  The purpose of my visit to Copenhagen, last June, was two-folds: to attend the European Science Open Forum (ESOF2014), and to introduce and promote UAI to the University of Copenhagen.
My impression of the Dansks – that's what they are called – is that they are very much in the spirit of innovation.  I may have been influenced by ESOF signs: "the Science City", which  were everywhere around downtown Copenhagen; or it could be because to whom I was spoken to: university professors, students, people in the Confederation of Danish Industry, and several  members of Danish Agency for Science, Technology and Innovation (DASTI).  Nevertheless, Danish government  is in full throttle to boost innovation in Denmark.  Using the catch-phrase: "Denmark – a country of solution", this small nation determines to solve global problems of energy and clean water crisis, problems that can only be solved through technology and innovation.  Getting a head start for tomorrow by mastering these technologies, will put Denmark at the top of the world, providing more job opportunity, produce more start-ups in these fields, and more importantly, a sustainable economic growth, due to their competitive advantage values.  
The question is, where can they find people with entrepreneur and innovative capability? Or, in a more popular term nowadays, people with 'innovation DNA', to reach its national vision?  Answer:  At the Higher Education Institutions. How does Danish government prepare the innovation DNA in its higher education institutions?  Answer to this question is what I would like to share, although, by no means I would cover the whole issue, this will only scratch the surface of this topic.  Readers are encouraged to check on the website: www.fivu.dk  for more information.
Many things have changed.  Today, the employers, decision makers, managers, etc. are demanding more, with higher expectation than before from higher education institutions.  University graduates must be able to handle more complex problems and tasks, while working in a rapidly changing work environment.  Yes, it is right and still required, the recognition of professional skills as the characteristics of higher education, but in addition to that, nowadays and in the future, university graduates must have  a certain personal competency and capabilities.   Among others, creativity and innovative minds are two skills that are requested with increasing frequent.
How does one cultivate and foster these competencies into the university teaching?
Commencing in 2012, Danish government, through the Ministry of Education and Science, conducted a nationwide transformation of university, from research-based campus to entrepreneurial campus.
In this model, higher education provides opportunity for students to taste and have an authentic experience on innovation. The philosophy is quite straight forward: 'students can learn about innovation and entrepreneurship, which will end up with nothing! Or, they can learn 'through' innovation. 
Learning through innovation means real hands-on experience of innovation, including its failures. This model is called: Entrepreneur Education (EE) i.e.:   providing students with opportunity to work with complex challenges and come up with innovative ideas to find solution or improve ways of doing things.  The outcomes that are expected from  this model are best stated in this definition:
 "Entrepreneurial mindsets refer to a specific state of mind which orientates human conduct towards entrepreneurial activities and outcomes. Individuals with entrepreneurial mindsets are often drawn opportunities, innovation and new value creation. Characteristics include the ability to take calculated risk and accept the realities of change and uncertainty".
Students will be trained to face real situation that happen outside the class, and expected to solve problems and/or contribute to improve the existing condition. For example, students learn to develop business models, making product prototypes, or service with external partner. 
So, what is the different with the Field Study (Kerja Praktek Lapangan) that UAI already has?  Quite different!  In this work-based learning model the goal is no longer to introduce company's routine activities to students, but more about providing authentic problems that need to be solved.  To succeed, therefore, it will require mental and cultural shift on both parties, the university and the hosting institution, or company, directed toward achieving the outcomes that are targeted, which are the skills of innovation DNA: 
Discovery Skills: Associational thinking – Questioning – Observing – Experimenting – Networking – Challenging the status quo – Risk taking;
Delivery Skills:  Analysis – Planning – Detail oriented – Self-disciplined;
Leading Innovation Skills: Encourages associational thinking – Encourage questioning – Encourages experimenting – Encourages networking – Encourages Challenging the status quo – Encourages risk taking.  
 The logic model of EE is shown in the Figure below (certainly  this is a flexible model and should be modified to fit each  needs).  This model provides specific activities: What will be  done, what are the outcomes, and expected impacts.  It also  shows the different stages of chained events around the EE,  which function as reference points from which indicators are developed.  One of the objectives of this logic model is to ensure that there is a good communication with the corresponding stake holders, since this Project-and Practice-based learning model requires strong relationship between university, external partner and stake holders. External partner could be local, national, multinational companies, or government agencies.
In Denmark this teaching model has been well received by the industry and business society.  They reported that students enrolled in this program are more motivated and generate a lot of ideas.   Many studies have indicated, however, the success of EE model is strongly affected by the institutions, includes:
It must have a strong institutional leadership;

The involvement of staff, student representative and external stake holders;

Culture and incentive that encourage rich knowledge sharing, collaboration between faculty members, and realizing that changes does not happen overnight;

The culture that does not allow learning process through mistake will hamper the development of innovation culture in an institution.
How are we doing at UAI?  Are we seeing entrepreneurship and innovation as the soul of our learning-teaching activities in this university?  More and more countries are adopting the EE model. In Indonesia, Universitas Bina Nusantara has already begun. 
Universitas Al Azhar Indonesia in many ways is very fortunate. One and the foremost is to have a visionary founding father such as Prof. Zuhal, who launched UAI with a tag-line: An Enterprising University. UAI should be proud of it, because we actually about six years ahead of the European in term of incorporating entrepreneurship in university teaching.  It was only in 2006 that the European Union adopted the model of entrepreneur innovation teaching in their higher education (Oslo Agenda for European Union, 2006).  Talking about a head start for tomorrow, we have had our head start!  Prof. Zuhal has laid down the foundation of entrepreneur education, called Universitas Al Azhar Indonesia.  The question is can we push it further to produce innovators?  The answer is up to all of us, the civitas academia of UAI. One thing is for certain, however, alone we can do so little, together we can do so much.
---